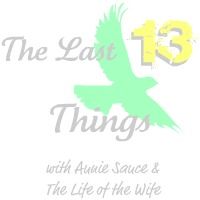 A different kind of post today as I'm participating in a cool link-up thing. For today only the task is to write about the last 13 things you did which is quite good as it gives an interesting insight into people's lives. So let's do it!
1: Ate- That was a typical student dinner in the form of chicken nuggets and potato wedges. I don't really like chips so I always have wedges instead. And it was with BBQ sauce, a particularly nice one I might add which is "lightly spiced". Who needs fine dining when a meal like this is satisfactory?
2: Listened to- That would be this track from the new Muppets movie. Which I finally got to saw today. There will be much, much, much more about this tomorrow. I might end up raving quite a lot!
3: Watched- That would be a repeat of Russell Howard's Good News on Dave. On the show Russell Howard makes fun of the weeks news. Dave is basically a repeats channel so this was an old one, which means it's not really news anymore. Still funny though!
4: Purchased- This depends on whether you count bidding on ebay. Until today I have never bidded on anything on ebay and then started bidding on all sorts of things. I'm winning various items at the moment, mostly Doctor Who related. But if you don't count bidding it would be the ticket to watch the Muppets, which was pretty reasonable I must say.
5: Tweeted- I have adapted this to mean "tweeted that wasn't a link to my blog or saying I'm listening to that song I mentioned a minute ago". In that case, it is this:
Have BBC News on waiting for something decent to start and they start making jokes about a place called "Flash". Glad I witnessed that...

— Dan(@zotwot) February 23, 2012
My Twitter is basically just random stuff like that. You should follow me!
6: Drank: Plain old tap water I'm afraid, everything else costs money which is in short supply at the moment. My friends who have come from a fair distance away hate the water here as it is particularly 'hard'. Having been brought up on it I'm used to it and can't really imagine anything else. It's odd that there's such a difference though.
7: Wished For: More food! I'm hungry and I have nothing in the house to eat!
8: Text I Sent: This says "Yes, I'll be on then". That is in reference to a conversation on Skype with my father. It was a decent conversation, if short.
9: Person I saw: Unless you count my dad on Skype that would be housemate Jaz. He was putting washing on the line in the hope it will dry over night. In the UK, in February. He is a crazy fool.
10: Person I spoke to on the phone: Well kind of my dad again, though that was Skype so not really the phone. On the actual phone was my friend Louise as we were trying to organise going to the cinema but in the end I ended up going with my other friend Stefan. He drove us, which was awesome.
11: Thing I hand-wrote: I had to do some ticking on a form, does that count? If not it is probably lecture notes, though I hardly write notes these days. I just print off the PowerPoint slides and keep them. It's very rare that the lecture will give out any information that isn't on the slides and in those cases I write things down.
12: Thing I smelled: Soap when I washed my hands. Or possibly food, which made me even more hungry.
13: Game I played: Myself and Stefan indulged in some Mario Kart Wii online today. I was putting in a poor performance compared to normal. It would appear the Spanish are particularly good at it as there were a lot of them doing very well.
And there you have it, the last thirteen things I did. Clicking on the image at the top will take you one of the hosts of this event. And I am hosting an exciting event of my own on February 29th! Visit the "Carnival" page for more info!